7 Fantastic Things to Do with Your Kids in Abilene
When the kids start to get bored around the house and it's time to get away, look no further than Abilene, the Storybook Capital of America. Known for its cowboy charm, Abilene has an endless list of fun things you can do with your kids. Uncover the secrets of the Old West, go on a scavenger hunt for The Lorax and Yertle the Turtle, and come face-to-face with rhinos and giraffes. Located just over two hours west of Fort Worth, this frontier town is a fantastic place to create new family memories. Check out a few of the top things you can do with your kids in Abilene below. 
Tip: Plan on sticking around for a while? Get the Abilene Round Up Pass and you'll save on admission at the best attractions in town.
Experience Life on the Frontier
Frontier Texas | Source: Steve Butman
Giddyup, partner! Pull on your cowboy boots and wide-brimmed hat and bring your kiddos to FrontierTexas!, where the wonders of the Old West live on. Your journey starts in the Blood & Treasure Theater, where guide (and Gunsmoke star) Buck Taylor readies you for your adventure. Ol' Buck isn't the only colorful character you'll meet along the way, as there are nine holographic spirit guides here to teach you a thing or two about the Wild West. 
Wander through the museum and you'll uncover thousands of years of history, aim down the barrel of a rifle just like one you'd see on the prairie, and explore a frontier settlement. Along the way, you and your cowboys and cowgirls will get to know some of the people who helped shape the Old West.
Explore the Storybook Capital of America


Santa statue | Source: Steve Butman
Your kids have probably read about the zany antics of Cat in the Hat or the epic adventures of Stuart Little. Imagine how they'll feel when they see these larger-than-life characters standing right in front of them? Stroll through Downtown Abilene and you'll encounter 25 statues of characters from Dr. Seuss' timeless classics, as well as Dino Bob, Jack Frost, and The Three Little Kittens. Finding all these sculptures is the best kind of scavenger hunt (check out this handy map), but that's not all you can do here. The National Center for Children's Illustrated Literature
features exhibits showcasing the works of celebrated children's book artists, as well as hands-on art activities every Saturday. 
Say "Howdy" to Macho, the Black Rhino
Zoo Tour | Source: Jennifer Nichols
He's big, he's gray, and he wants to say hey. He's Macho, a 2,500-pound black rhino and the Abilene Zoo's resident gentle giant. It's not every day you can introduce your kids to such a majestic creature, but that's exactly what you can do on an affordable behind-the-scenes VIP tour. Macho is just one of the animals your kids can interact with, as they can hand-feed giraffes and get up-close and personal with the many turtles and snakes that call the zoo home. Don't forget to explore the rest of the zoo to see lions, tigers, alligators, and an array of birds. Then go for a ride on the Safari Express or the Wildlife Carousel, rent a swan boat and paddle on Zoo Lake, and play in the splash pad and Fort Imagination playground (in the summer).
Play All Day at Primetime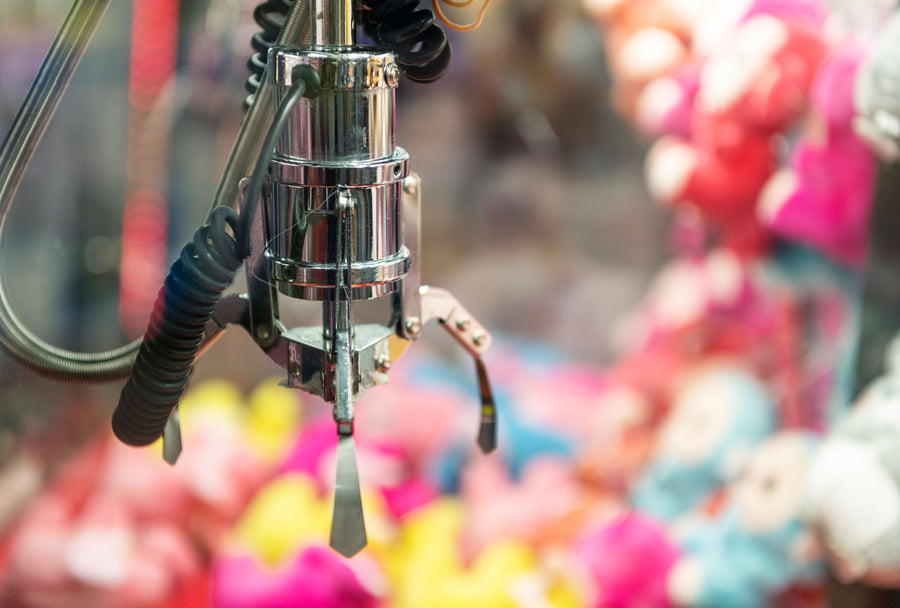 Arcade claw game | Source: Elements
Bumper cars, laser tag, arcade games, and all your kids' favorite food all under one roof. If this sounds too good to be true, you haven't been to Primetime Family Entertainment yet. This one-stop-shop for family-friendly entertainment has something for kids (and adults) of all ages. Putt your way around the two 18-hole mini-golf courses, race around the go-kart track in a one- or two-seat kart, and show your roll at the bowling alley (with automatic bumper rails). When you need a break, hit up the restaurant for delicious pizzas and burgers before heading out for more fun. 
Bounce Like a Ball
Maxx Air Trampoline | Source: maxxairpark.com
Everyone knows that a backyard trampoline can serve up days of non-stop entertainment and exercise, but the thousands of square feet of vertical fun at Maxx Air Trampoline Park will make you positively jumpy. The park offers many ways to bounce around for kids and grownups, from wall-to-wall trampolines to a dodge ball court that takes this traditional game airborne. Watch as your kids conquer the Ninja Course complete with warped walls, silk ropes, and hanging grips; dunk like Lebron James in the basketball lanes; and leap from a 12-foot-tall platform into an enormous airbag. There's no end to all the high-flying action at Maxx Air Trampoline Park, and everyone will leave with tired legs and big smiles.
Learn and Discover at The Grace Museum
The Grace Museum | Source: Keithimus
Located in a historic hotel, The Grace Museum is a showcase of art, culture, and the history of Abilene and West Texas dating back to the late 19th Century. While there are thousands of art works and historical items that can educate and entertain older kids, the younger crowd will love the Children's Museum. Bright and colorful, the museum is full of interactive exhibits related to the arts and sciences perfect for hands-on play. Let them explore their inner actors on the Mini Paramount Theatre Stage, feel like surgeons at the big Operation game, and create works of art of their own inspired by pieces found in The Grace Museum's permanent collection. There's even a special area for children younger than four. With plenty of hands-on experiences and tons of art to admire, a visit here is a must while you're in Abilene.  
Tour Texas Tip: The Grace Museum offers free admission and stays open late on Thursday nights, giving your kids even more time to play. 
Whether you're teaming up against the competition in a laser tag arena, exploring the Old West with your cowboy kids, or getting some serious airtime, there are tons of ways to have fun with your entire family in Abilene. Find out more about the Storybook Capital of America and plan your next visit with us here.
---